Open letter of endorsement to Commissioner Iliana Ivanova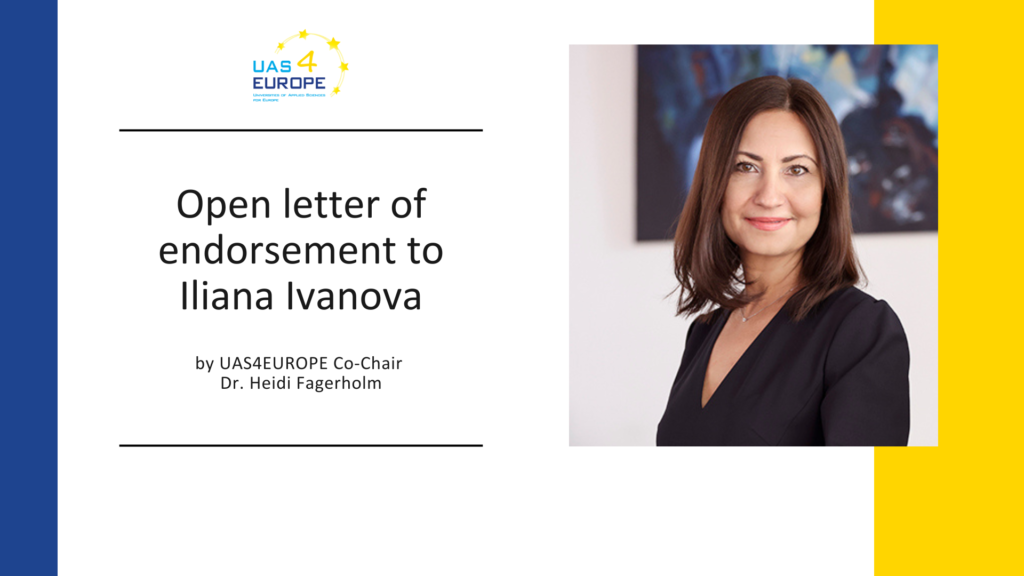 Today, the European Parliament approved the appointment of Iliana Ivanova as Commissioner for Innovation, Research, Culture, Education and Youth! We congratulate Ms. Ivanova on her appointment and the entire European R&I sector for the necessary political leadership of these important portfolios. On this occasion, UAS4EUROPE Co-Chair Dr. Heidi Fagerholm, wrote an open letter to Commissioner Ivanova, highlighting some of the most important files over the next months. You can read the open letter below.
---
Dear Commissioner, dear Ms. Ivanova,
First of all, allow me to warmly congratulate you on today's successful appointment as European Commissioner for Innovation, Research, Culture, Education and Youth on behalf of UAS4EUROPE. It is a good sign for our European R&I sector and for European science in the world that this important portfolio is again in competent hands at this crucial time of the Horizon Europe framework programme.
I am sure we agree that while research and innovation have an important place in our society in their own right, your portfolio is of undeniable importance in achieving most EU ambitions. There is neither a digital nor a green transition without R&I at its core.
As a network of European universities of applied sciences (UAS), we represent higher education institutions that are drivers of regional innovation ecosystems with close links to citizens, industry and public authorities, while increasingly working with European and international partners. UAS follow a practice-based and transdisciplinary approach, promoting innovation competencies and an entrepreneurial mindset. Our focus is on developing people and new skills for the benefit of wellbeing and competitiveness across European regions.
Consequently, UAS form the link between fundamental research, the valorisation of knowledge and innovation, and ultimately the tackling of societal challenges.
We are pleased to see the R&I portfolio in your hands. Having followed your hearing at the European Parliament with great interest, we were particularly delighted to see you underline aspects that are crucial to ensure a smooth process from knowledge creation, to knowledge transfer and valorisation.
I would like to highlight the following priorities:
Translating innovation into society is at the core of the UAS mandate. In this context, the New European Innovation Agenda (NEIA) is an important initiative to strengthen the role of innovation ecosystems. We have contributed to this development through an innovation action plan (2021) and the UAS'ers guide to building innovation ecosystems (2022).
The ongoing research assessment reform is an equally important initiative, as applied research is diverse in terms of scientific outputs and career paths (e.g. UAS lecturers are no career academics but need to bring a non-academic background to their faculties). We are contributing to this reform through our CoARA membership and active participation in the upcoming working groups.
The Horizon Europe interim evaluation is relevant to take stock of the current framework programme for R&I but also to start the process towards developing FP10. In this context, we will publish our report on Horizon Europe later this year, which we will gladly share with you and your team.
In terms of simplification, we were delighted to understand that you will work on facilitated access to Horizon for newcomers and SMEs through simplifying the application and reporting procedures. As comparatively young institutions with evolving RMA capacities, we see this as a promising approach to make Horizon Europe even more inclusive.
In this spirit, I can assure you that UAS4EUROPE will continue to be a constructive partner for you and the services under your authority.
Yours sincerely,
Dr. Heidi Fagerholm
UAS4EUROPE Co-Chair
Rector, CEO, Oulu University of Applied Sciences
---
You can download a pdf-friendly format of the open letter here.