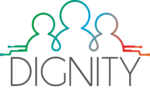 UAS involved: Breda University of Applied Science
The overarching goal of DIGNITY (NL) is to foster a sustainable, integrated and user-friendly digital travel eco-system that improves accessibility and social inclusion, along with the travel experience and daily life of all citizens. The project delves into the digital transport eco-system to grasp the full range of factors that might lead to disparities in the uptake of digitalised mobility solutions by different user groups in Europe. Analysing the digital transition from both a user and provider's perspective, DIGNITY looks at the challenges brought about by digitalisation, to then design, test and validate the DIGNITY approach, a novel concept that seeks to become the 'ABCs for a digital inclusive travel system'.
In line with SDG 10 (Reduced Inequalities), the idea is to support public and private mobility providers in conceiving mainstream digital products or services that are accessible to and usable by as many people as possible, regardless of their income, social situation or age. Additionally, DIGNITY aims at helping policy makers formulate long-term strategies that promote innovation in transport (see SDG 9: Industry, Innovation & Infrastructure).