Faces of UAS4EUROPE: Prof. Dr. Armando Pires (formerly EURASHE) and Otto Bruun (SwissCore)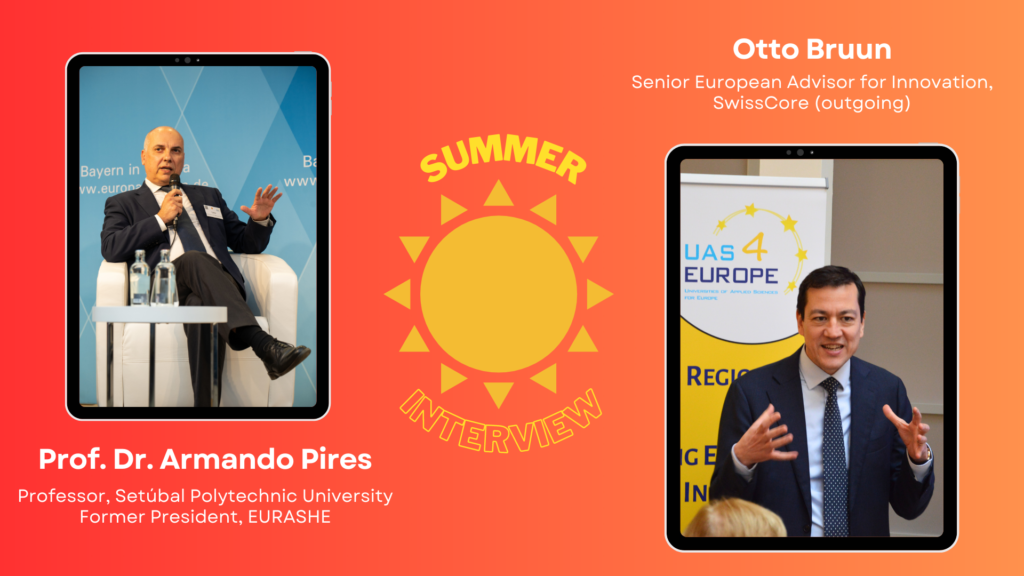 Prof. Dr. Armando Pires is a full professor in the area of Electrical Engineering at the Setúbal Polytechnic University in Portugal. Covering many international functions, amongst others his role as EURASHE president between 2021 and 2023, Armando was highly involved in setting the strategic direction of UAS4EUROPE since its establishment.  
Otto Bruun has been Senior Advisor for Innovation at SwissCore since 2018 and a leading figure in UAS4EUROPE's activities as Chair of the Management committee from 2021-22, coordinator of the innovation expert group and network representative in the ERA Forum's stakeholder group of university associations. Otto further moderated several of our events.  
Both Armando and Otto look back on some very intense years in the Brussels policy community and are now off to new adventures. Check our interview if you want to know how they observed the development of UAS4EUROPE and what they will be up to in the future.  
---
Prof. Dr. Armando Pires and Otto Bruun on …
… their involvement in UAS4EUROPE 
It is not exaggerated to say that Armando is one of the founding fathers of UAS4EUROPE. As EURASHE vice-president and representative of CCISP in UASnet, he was closely involved in setting up the network when the Commission in 2016 asked for an "applied sciences sector that speaks with one voice in research and innovation policies". Joining forces with EURASHE, UASnet, swissuniversities, Hochschule Bayern and the Austrian FHK, the founding statement has been published in May 2016.  
Otto joined us a little later but still in the early days of UAS4EUROPE, when he started at SwissCore in 2018 and took over the representation of Swissuniversities' UAS chamber in UAS4EUROPE's operational body, the management committee. Back then, "the focus was really on raising the profile of UAS when it comes to the Horizon framework programme for R&I". It became clear quite quickly that the network had to professionalise with a permanent representation in Brussels and a strategy that outlines UAS4EUROPE's involvement in R&I policy development. During Swissuniversities' presidency in 2021-22, Otto was one of the main forces to establish UAS4EUROPE in EU policy development processes, resulting in our membership in the ERA Forum's university stakeholder group and the set-up of the innovation expert group.  
… the development of UAS4EUROPE 
Both Armando and Otto agree that the consultation of the New European Innovation Agenda (NEIA) was a defining moment for UAS4EUROPE. Not only were we able to position our USPs through our innovation action plan and UAS'ers guide to building innovation ecosystems, but we also managed to set up our first expert group. According to Otto, "despite all the systemic differences of UAS in different regions and countries, we came up with a list of twelve points where UAS concretely contribute to regional innovation and research-based education". This creates a good precedent for future activities. 
… on upcoming R&I policy developments 
Armando argues "to not put all eggs in the same basket", when thinking into the future. With important milestones ahead, such as the upcoming Horizon Europe Strategic Plan, the European elections and of course the development of the next R&I framework programme (FP10), "we should be prepared for an intense activity after the calm summer season" and strengthen our contacts in all institutions, especially also the new members of the European Parliament. Armando stresses that "we need to stick together as a network to present a holistic view of where R&I collaboration should be headed". This, of course, includes international cooperation with third countries such as Switzerland. Otto stresses that "from a Swiss perspective it is very important to be engaged in networks such as UAS4EUROPE to stay engaged with European partners as we wait for Horizon Europe association to come through, possibly next summer". 
… on where UAS4EUROPE should be headed 
According to Otto, "we are recognised at the highest level within the European Commission, they appreciate our value". In addition to maintaining and strengthening our contacts in the European institutions, we should complement our advocacy with a stronger focus on national level policies supporting research at UAS, including professional doctorates. Promising developments in that regard are being developed and implemented in the Netherlands, Bavaria and Baden-Württemberg, with a lot of potential for other European countries and regions. Armando further highlights that we need to stick together as a sector with close interactions between the education and research portfolios "because we are very much involved in both activities: research and research-based education".  
… on their future endeavours 
Armando: "I am a professor and researcher. I will go back to the roots and spend more time with my students".  
Otto: "I am going to stay in touch with European programmes at the Swiss State Secretariat for Education, Research and Innovation (SERI) as an advisor on international innovation programmes with UAS as key stakeholders in that".  
We are grateful for Armando's and Otto's incredible commitment over the past years and will certainly stay in touch! All the best to the both of you!