28/02/2018, Brussels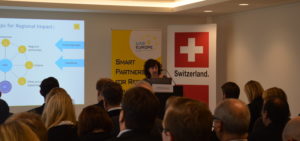 Universities of applied sciences (UAS) exchanged views with the European Commission (EC) regarding the 9th EU Framework Programme for Research & Innovation (FP9). Their applied research stands for regional impact and societal relevance.
Various representatives of the EC, permanent representations, UAS and other European organizations met on Wednesday, 28 February 2018, in Brussels for the "croissant event, UAS4EUROPE for FP9!" to discuss not only what can FP9 offer to the UAS, but also what the UAS can offer to FP9.
There seems to be a consensus – through applied research, the UAS can generate a large regional impact thanks to various partnerships with other universities, industry, citizens, regional authorities and other stakeholders. The UAS are strongly embedded in their region, are part of innovation ecosystems and are key players for the innovation transfer in various areas. Hence, Luciana Vaccaro, 2017-2018 representative of UAS4EUROPE, get to the heart with her statement: "Europe needs UAS – UAS need Europe!".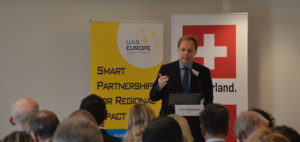 Kurt Vandenberghe, Director for Policy Development and Coordination at EC's DG Research and Innovation, outlined that the UAS have an important role to play in FP9, especially because of the applied research they do. They can make sure that EU funded projects are relevant for the society and its citizens. In these two areas, the EC sees room for improvement in the successor programme of Horizon 2020.
More pictures of the event can be found here.