On 23 February 2021, the presidents of UAS4EUROPE laid the ground for a strong dedication towards achieving the United Nations Sustainable Development Goals (SDGs) by signing a joint statement. Accordingly, the nine member organisations pledge to "use its position in Europe to strengthen the role and visibility of UAS in their commitment to the SDGs". As key actors in regional ecosystems, Universities of Applied Sciences (UAS) are indispensable in addressing sustainability issues through the focus areas of learning/teaching, research, governance and external leadership. Together with the presidents' statement, a background paper outlines the contribution of UAS to achieve the SDGs and builds the foundation of an increased commitment of European applied research and innovation towards the 2030 Agenda for Sustainable Development.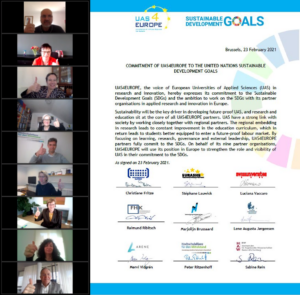 Between March and July 2021, UAS4EUROPE reached out to its researchers, EU advisors and administrative officers to identify challenges and opportunities related to the SDG framework from the perspective of European Universities of Applied Sciences. The results are collected in our SDG Survey report. 
On this site, we update you on our activities related to the SDGs.