A UAS'ers guide to building innovation ecosystems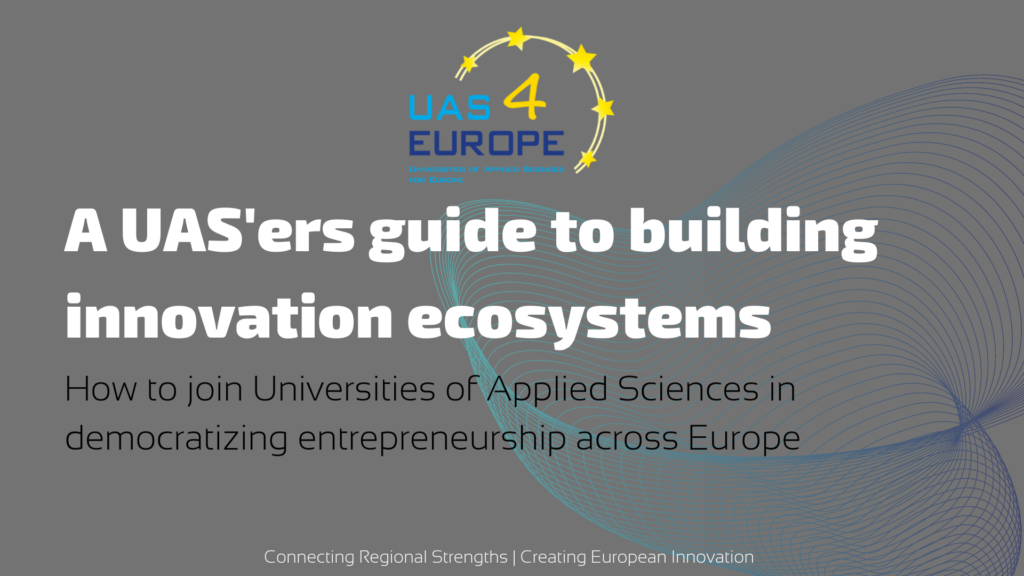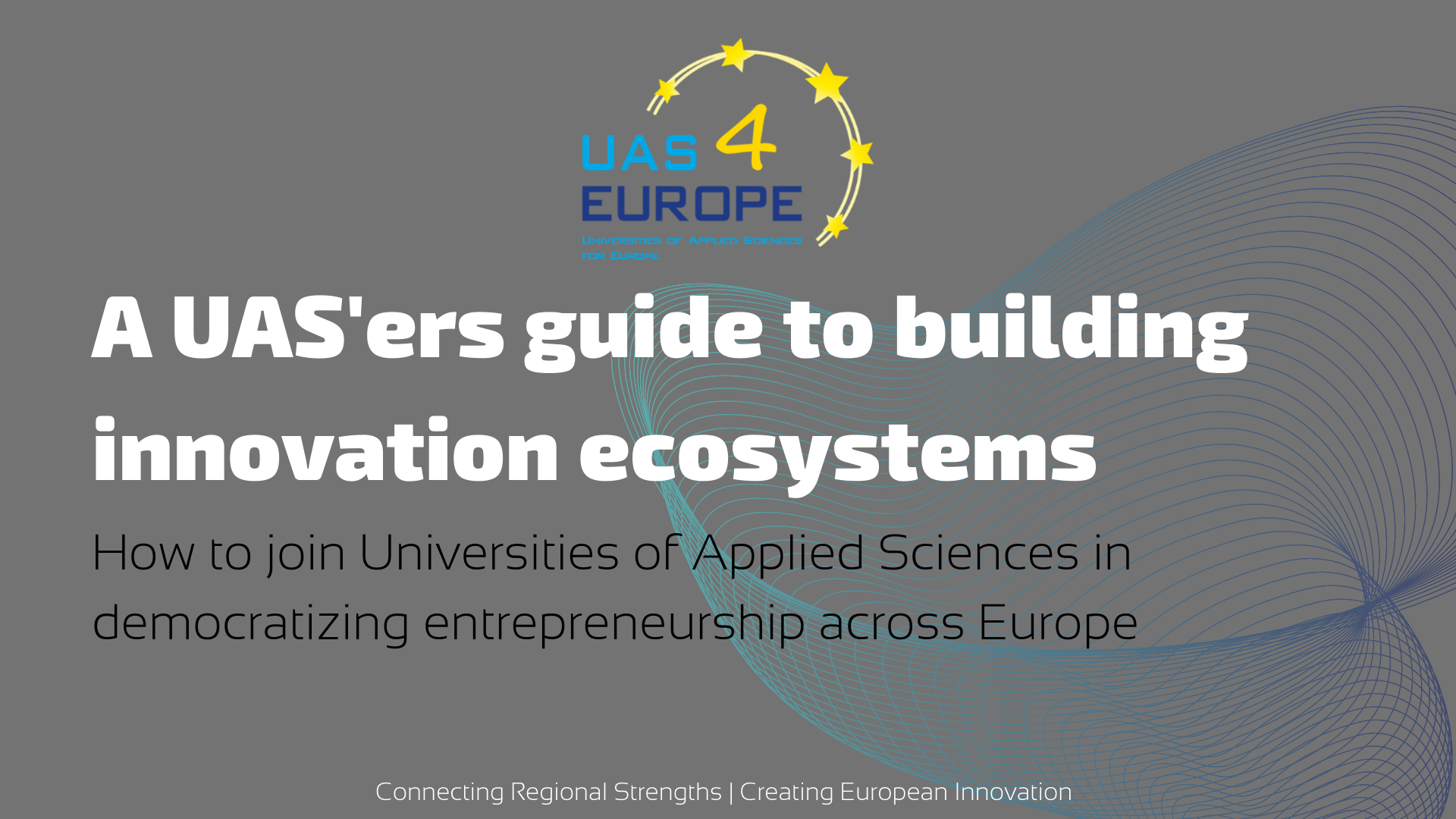 Following the publication of the European Innovation Agenda (EIA) and its five flagships on 5 July 2022, UAS4EUROPE, together with its innovation expert group, has published its response "A UAS'ers guide to building innovation ecosystems" on 29 November 2022 in Brussels.
As regionally-anchored institutions of applied research, universities of applied sciences (UAS) particularly contribute to the three EIA flagships on strengthening innovation ecosystems, attracting and retaining talent, as well as offering regulatory sandboxes.
UAS act as intermediaires of innovation ecosystems, interconnecting all of their actors in academia, industry, public authorities and the citizens and as such enable innovation ecosystems to live up to their potential and make connections with ecosystems beyond their regions.
Furthermore, UAS train the talent of tomorrow in a practice- and challenge-based approach and in close collaboration with regional industry, in particular SMEs. This in turn leads to a high degree of transition of young professionals into the labour market of their regions. In particular, UAS attract a comparatively large share of students with non-academic backgrounds.
Finally, UAS offer living labs to their students and surrounding start-ups, offering experimentation space for new ideas, as well as office space and business acceleration services, which in turn leads to innovation that is seamlessly absorbed by the market.
The paper is structured in two parts. A quantitative chapter is shedding light on the tangible effect that UAS have on the innovation activities within their regions, looking at the indicators intellectual property, entrepreneurship and R&D services to regional economy.
Complementary to the quantitative part, a qualitative chapter demonstrates in seven concrete best practices from across Europe how UAS engage with stakeholders within and beyond their regions.
The portrait of E³UDRES² shows how UAS bring to bear their strengths as collaborative platforms, and connect across Europe, leveraging European programmes, in particular the European Universities Initiative.
Start for Future equally shows how UAS can develop together a truly European entrepreneurship platform, leveraging other ecosystem initiatives such as the EIT KICs.
The two following examples from the Netherlands and Finland illustrate how UAS are key players in enabling SMEs to navigate the digital transition. The Dutch Centre of Expertise Applied AI coordinated by Amsterdam UAS as well as the Finnish FAIR digital innovation hub demonstrate how UAS complement ideally the role of traditional universities and large research organisations, and connect to moderate innovation regions.
Two Swiss examples show the key role in regional deep tech ecosystems in ensuring an effective knowledge transfer by keeping close and deep relations with relevant industry actors, respectively looking at Bern UAS as the leader of the Swiss battery technology alliance and the UAS and Arts Northwestern Switzerland in the Basel Life Sciences Ecosystem.
Finally, an Austrian example displays the role of a rural UAS in the Burgenland region that set up a research centre to ensure a successful energy transition with and for their region.
Following the publication of our "UAS'ers guide to building innovation ecosystems", we continue to outline the role of universities of applied sciences in interconnecting actors of different regional ecosystems. One further example is the University College of Northern Denkmark (UCN) and its Research Centre for Industrial Digital Transformation. With the goal of enhancing the digitalisation of SMEs in their region, a research focus is being put on better understanding of emerging technologies in the industry. To read the full portrait of the UCN's Research Centre for Industrial Digital Transformation, click here.