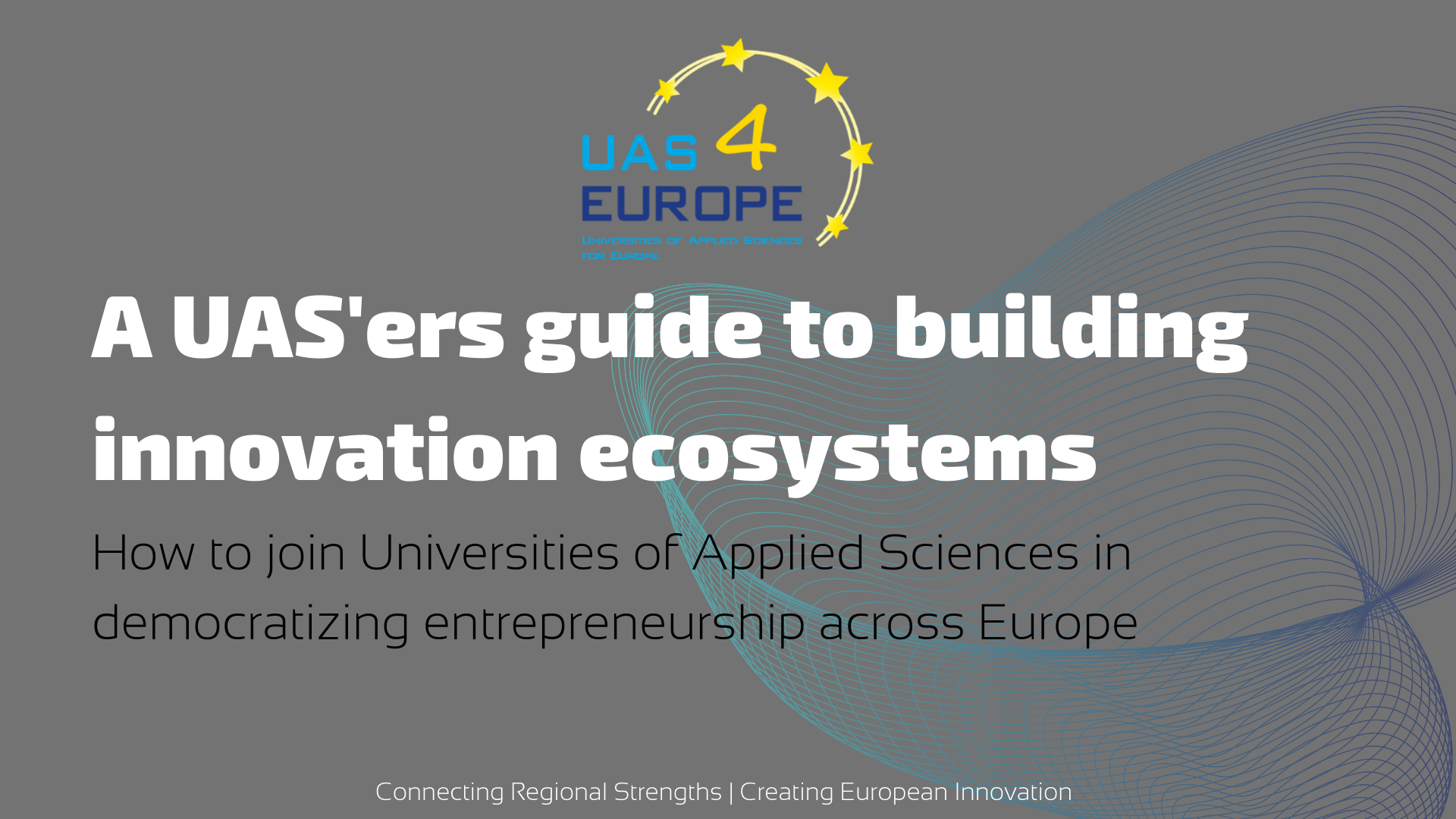 The UAS'ers guide to building European innovation ecosystems – How to join Universities of Applied Sciences in democratizing entrepreneurship across Europe's regions
Venue: Neth-ER premises, Rue d'Arlon 22, 1050 Brussels (see directions)
Date: Tuesday, 29 November 2022
Time: 10:30 – 12:00
---
Background
UAS4EUROPE is a network representing 450 Universities of Applied Sciences (UAS) from 24 European countries with a focus on applied research and innovation. Our members are highly engaged institutions with a mandate to act as local and regional hubs of collaborative innovation and skills-development. As a stakeholder organization based in Brussels, we have contributed to the consultation of the European Innovation Agenda through a dedicated innovation expert group. Following the publication of the EIA and prior to the adoption of the Council Conclusions on the New European Innovation Agenda, scheduled for 2 December 2022, we present our UAS'ers guide on how to build regional innovation ecosystems with a focus on democratizing entrepreneurship.
Event concept
Innovation is a key focus of European policy to help address the challenges of the green and digital transitions, strategic autonomy and resilience in the face of a changing world. The European Innovation Agenda, presented by Commissioner Gabriel this summer, and on which the EU Council is currently preparing conclusions, outlines five flagship objectives of EU policy to ensure that innovation can flourish and meet our societal needs.
Among the flagship aims is to promote regional innovation ecosystems and tackle the innovation divide between regions. The Agenda notes that there is an unexploited potential in regional innovation ecosystems. It adds that such ecosystems are often centred around higher education, research or training organisations. Universities of Applied Sciences indeed serve as such ecosystem hubs or "orchestrators", driving the flywheel of innovation development by connecting other innovation actors – from SMEs to large industry, from traditional research universities to public administrations – and by nourishing the ecosystem with a trained workforce that masters the technologies and methodologies of tomorrow.
As the European institutions work towards a roadmap laying out how to achieve the Agenda's objectives, Europe's Universities of Applied Sciences will take this occasion to outline how our institutions are already contributing to these goals, by taking exciting new steps in advancing Europe's innovation potential in their own regions, and by connecting across Europe to boost the potential of all regions. This ensures a democratizing of the process: innovation by the citizens, for the citizens and of the citizens.  
This event will be an occasion to discuss between UAS and other regional stakeholders and the EU institutions about how we can best unlock the potential of innovation among all of Europe's citizens and how collaborative efforts such as those led by UAS can advance these goals. How do UAS contribute to their regions' innovation capacity? How are they sharing these practices across Europe? How are they having deep and sustainable societal impacts? And how can other innovation actors and the European institutions join UAS in scaling these initiatives?
Draft Agenda
10:30 – 11:00

Arrivals & Welcome reception
11:00 – 11:10

 

Welcome address and setting the scene

Dr. Annelie Kohl, Chair of the UAS4EUROPE Management Committee

Jurgen Rienks, Director, Neth-ER

11:10 – 11:20

Introduction to the UAS4EUROPE EIA response

Dr. Heidi Fagerholm, Vice-Chair, UAS4EUROPE & CEO, Oulu UAS

11:20 – 11:30

Best practice 1: Democratizing entrepreneurship across Europe

Prof. Dr. Klaus Sailer, CEO, Strascheg Center for Entrepreneurship & Professor, Munich UAS

11:30 – 11:40
Best practice 2: Synergies in building EU innovation networks

FH-Prof. Dipl.-Ing. Hannes Raffaseder, Lead coordinator, E3UDRES2 European University Alliance; CEO, St. Pölten UAS; Board Member, EURASHE

11:40 – 11:50
Best practice 3: Orchestrating national deep-tech innovation ecosystems

Anna-Katharina Lautenschütz, Dr. sc. nat., Grants Advisor, Bern UAS Vice-Rectorate Research

Lizanne Richle, Companies Advisor Region Bern, Bern UAS Vice-Rectorate Research

11:50 – 12:30
Panel Discussion: "Connecting UAS as regional ecosystem orchestrators"

Moderator: Otto Bruun, Coordinator, UAS4EUROPE Innovation Expert Group & Deputy Head of Office, SwissCore

·      Tudor-Trestieni Ion, Head of Sector Researchers and Research Careers, DG RTD, European Commission

·      Dr. Heidi Fagerholm, Vice-Chair, UAS4EUROPE & CEO, Oulu UAS

·      Pirita Lindholm, Director, ERRIN